Customer Testimonials
Tom Flickinger - Packaging Specialist


"PackageX helps keep a project on track and moving forward and it's an easy way to make sure everyone is working from the same data."
Tom Flickinger - Packaging Specialist
Dick Emmerick - Jamestown Container


"PackageX is an exciting new tool that makes communication easier for customers who deal with multiple plant locations."
Dick Emmerick - Jamestown Container
Many companies in the consumer packaged goods, packaging and retail industries have experienced the advantages of increased sales, shorter time to market, and improved communications provided by PackageX products. Below are a few of our customers. companies to provide you with the best collaboration solutions in the industry. We work alongside some of the best companies in the world.
A True Competitive Advantage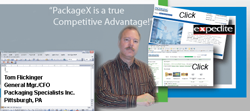 "PackageX is a true Competitive Advantage! Using collaboration technology to build a digital moat around your customers."
By Tom Flickinger - Packaging Specialists


What does it take to gain the upper hand on the competition nowadays? We have great customer service; they have great customer service. We are ISO certified; they are ISO certified. We have great product quality; they have great product quality.

If fact, all the differentiating qualities that made us successful in the past are now only the minimum requirements to stay in the game
 

We used to rely on long-standing relationships with our customer's buyer.

We had him over for dinner, went to ballgames together, and our children shared the same birthday. Now, the buyer is a kid with an MBA who isn't married, hates baseball, and repels down mountains over the weekend..

Today, all of our customers are being attacked from competitors that never considered calling on them before. How can we protect our customers from attack? How do we differentiate ourselves from the competition?
Read more...
Copyright © 2021 PackageX. All Rights Reserved.